ContentCast™ Content Builder (Live Demo)
Overview
CNET Content Solutions provides a Vendor Portal for manufacturers, empowering you to have more control over what is being syndicated to retail partners. From the Vendor Portal, you can manage your partners, build Inline Content, and add product SKUs. After adding content to your preferred SKUs, your product information is pushed live to our comprehensive retailer network.
---
Please fill out the form below for more information about the Builder.
Ask about receiving a 30-day trial to build SKUs, publish SKUs, and gather reporting about where your product information is being syndicated.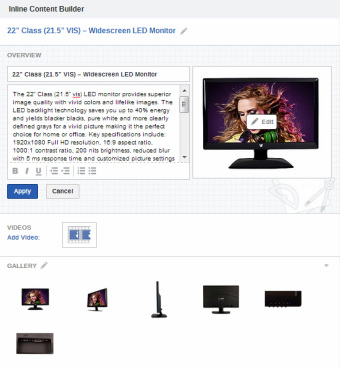 ---
Details
The Inline Content Builder within the Vendor Portal provides a WYSIWYG editor that enables you to enrich your product SKUs with marketing elements such as:
Rich Content
Media Gallery
360° Spin and Flash Tour
Hotspots
Compare Tables
Inline Videos
MP4 and YouTube Video Support
PDF Document Management
Flexible Layout Options
Zoom Images with Mouseover
The Inline Content you build is then delivered to partner websites. With ContentCast's Inline Content Builder, you have the ability to create rich content for product SKUs that retailers are already requesting.
Detailed reporting is also available within the Vendor Portal, so you can see which retailers are requesting your product content and which products are receiving the most traffic.
By adding rich content to your product SKUs, you can ensure brand consistency and improve conversion rates.